Electric Vehicle Charging Stations
Sales | Installation | Service
Ganesh Works and CH Services sells, installs and services electric vehicle changing stations. Our expert technicians have the experience and equipment to service and repair Level 1, Level 2 and Level 3 of all makes and models of electric charging stations. We use the latest technology to supply homes and businesses with the most modern equipment available. Most modern electric plug-in vehicles have a standard receptacle on the car that will accept Level 1 and Level 2 residential recharging stations. Our experienced and knowledgeable team helps inform our customers and ensures they get the best charging system for their needs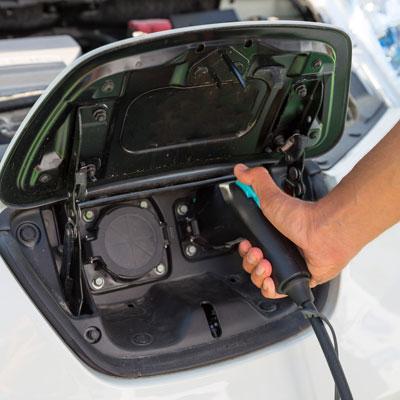 Level 1
Level 1 chargers are the lowest level of charging systems that draw 16 amps at 120V. Level 1 chargers cannot completely recharge an empty battery overnight (7 hours), between midnight and 7am, the lowest electrical rate hours. However, a Level 1 charger can completely recharge the battery overnight that is driven 30-40 miles per day. A built-in timer controls charging time.
Level 2
The Level 2 charger requires 240V circuit. Generally, a new dedicated circuit is required. If you need a new circuit for your charger, the cost of installing a Level 2 system versus a Level 1 system is minimal. Both require a building permit, which will be included in the bid estimate Ganesh prepares for you. We have the experience and equipment to safely and quickly install Level 2 Vehicle Charging Systems.
Level 3
Level 3 charging stations are commercial stations that provide a full charge in half an hour.